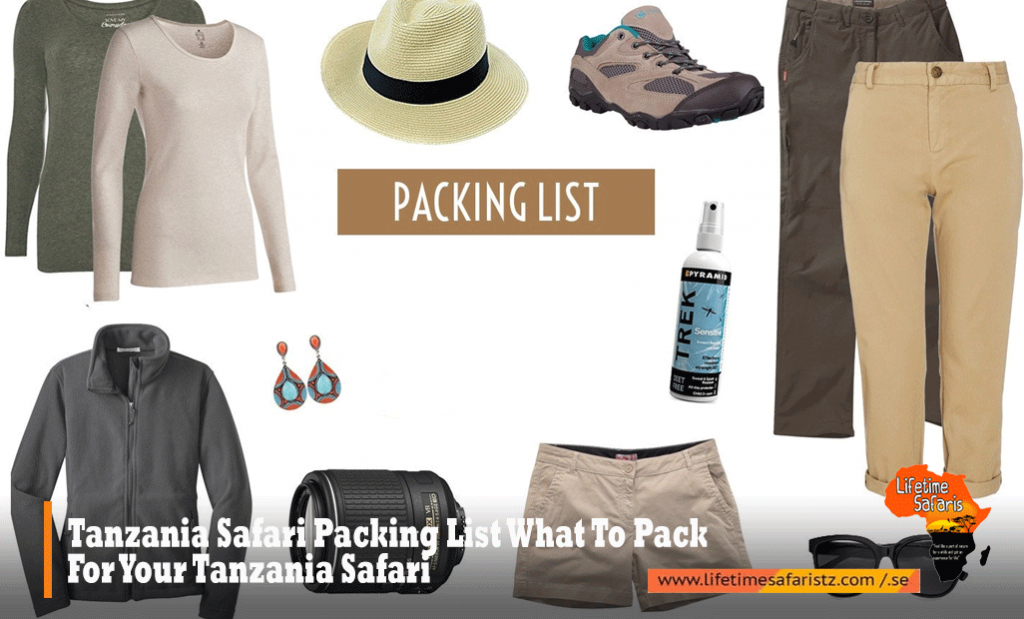 Packing for your safari to Tanzania can be a challenge, especially if it is your first Africa adventure. What makes for a great Tanzania Safari Packing List is that which encompasses all essential items required in your Tanzania Safari Tours including clothing, electronic, and document related items that you simply can't miss.
What To Pack For Safari In Tanzania is one of the most asked questions in Tanzania Safari FAQ's by every traveler. Tanzania Safari Packing List matters because of weight limits and size limits for the flights and other transportations.
If you're pondering what to pack for a Tanzania Safari Tours, worry not, as we've compiled an essential guide to alleviate any stress you might have.
Lifetime Safaris is here to help. This is our advice on what you need for a Safari In Tanzania.
FOOTWEAR FOR TANZANIA SAFARI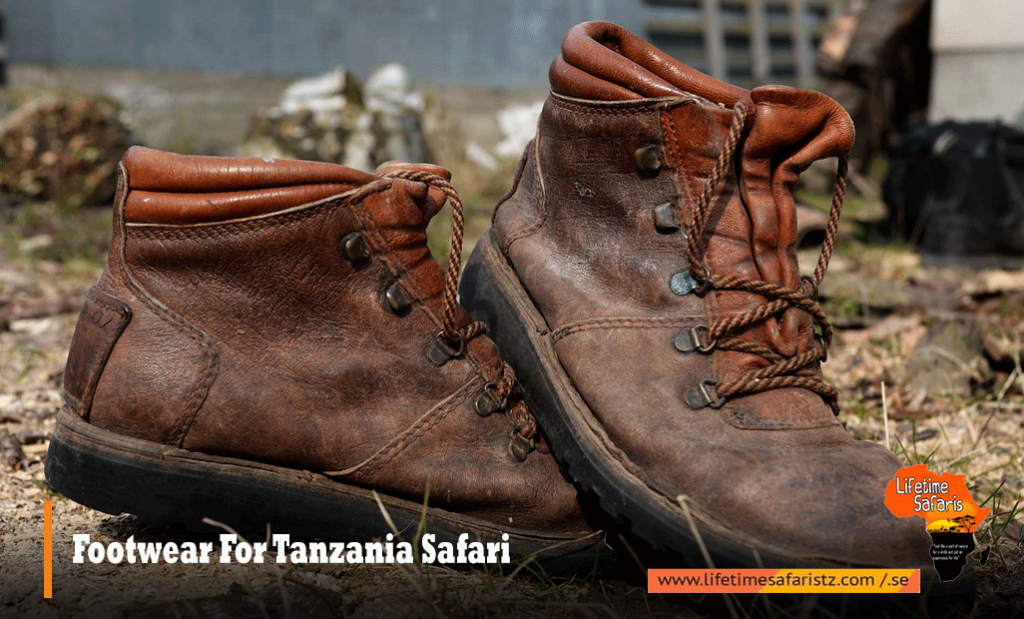 As the footwear is going to be dirty, take sturdy, comfortable, and waterproof shoes. For lounging in the evening, you can take Tennis shoes.
Include 2 to 3 breathable and comfortable socks in Tanzania Packing List.
CLOTHES FOR SAFARI IN TANZANIA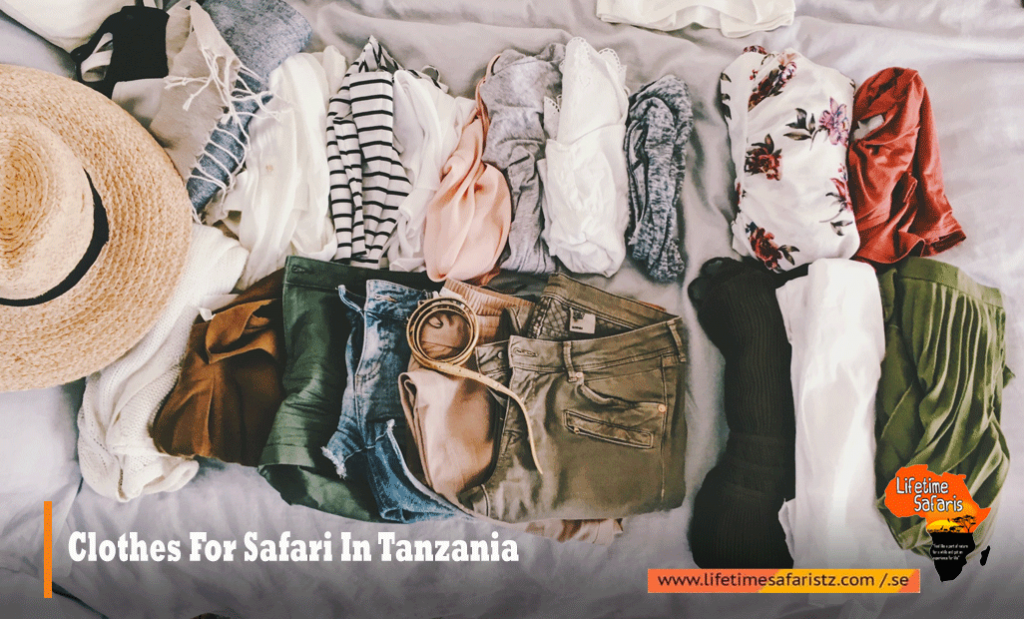 The recommended Clothes For Safari In Tanzania are:
Take 2 pairs of each short or longer
2 to 3 pairs of lightweight and breathable pants
Take cool and breathable short-­sleeved shirts
Wear a neutral colour. Avoid black colours and also blue and bright red colours.
Take bathing suit if staying at a lodge with a swimming pool or for Zanzibar beach
Take long­-sleeved fleece or sweater for evenings and early mornings
Take rain jacket or rain poncho
Asked by most of the visitors, What To Wear In Tanzania Safari, for cultural tours or village visits your clothing should be as below:
For women:
Longer pants and shirts which can cover the shoulder area for the village visits
Lightweight dresses or skirts that cover the knees.
For Men:
Short­-sleeve shirts with collars for visiting villages or evening dining at the accommodations.
Keep valuable jewellery to a minimum
BAGGAGE FOR SAFARI IN TANZANIA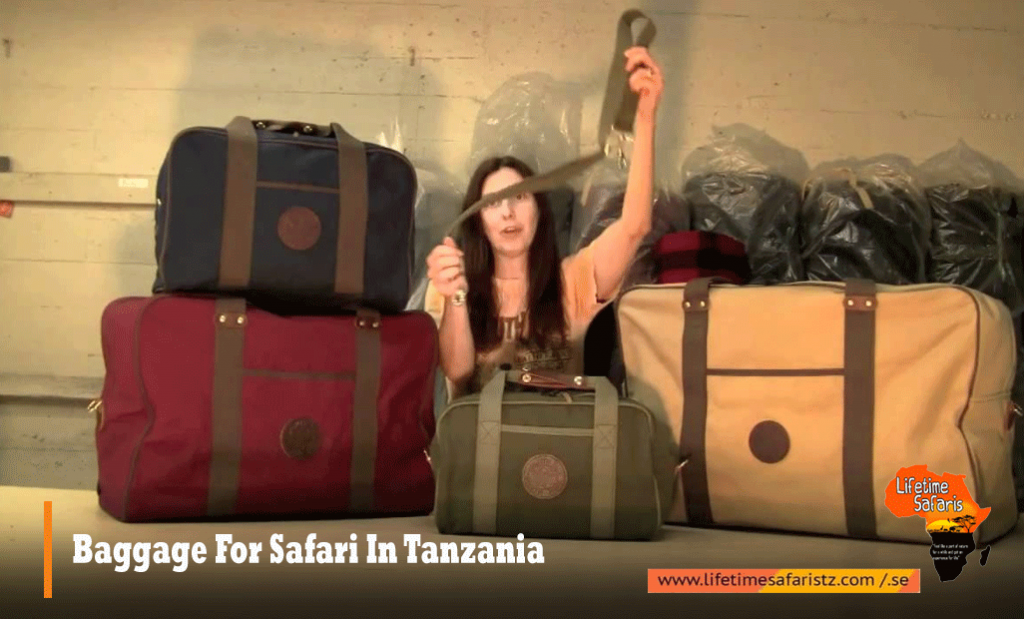 Day pack, for you to carry
Large waterproof duffel bag or backpack
Extra zip lock bags and tissues
TOILETRIES FOR SAFARI IN TANZANIA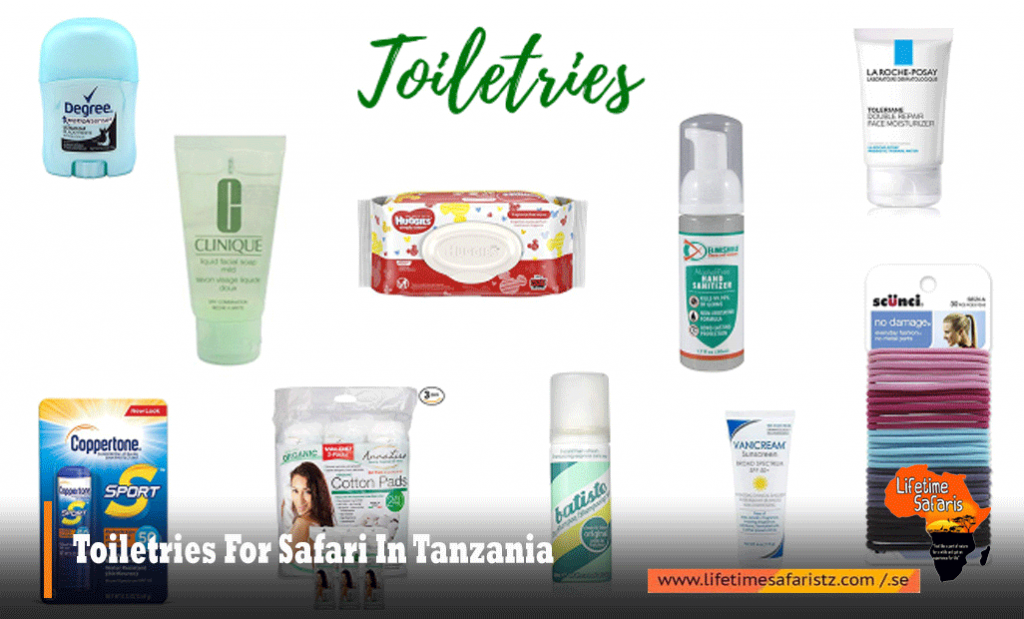 Small hand towel (spare item)
Roll of toilet paper for public washroom
Soap
Toothbrush and toothpaste
Handi­-wipes
Lotion
Glasses and contacts
Combs and mirror
Shampoo for without heavy fragrance
Unscented Deodorant
TRAVEL DOCUMENTS FOR SAFARI IN TANZANIA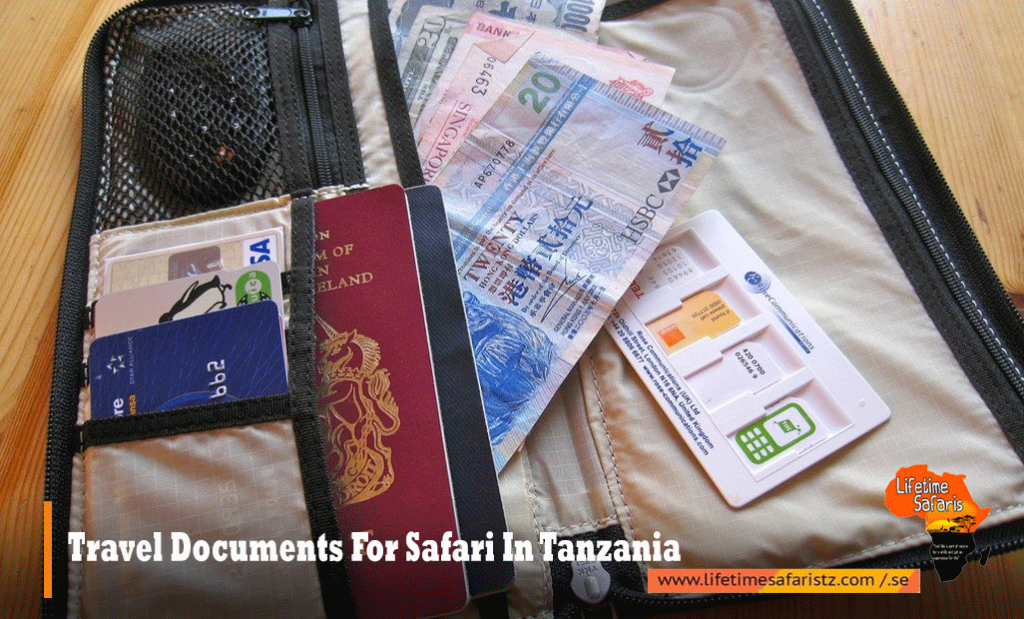 As the most essential things in Tanzania Safari Packing List, you should not forget or leave Travel documents anywhere during the Tanzania Safari Tours.
Passport with visa stamp
Visa proof
Yellow fever certification, if you are coming from yellow fever infected country
Debit and Credit cards
Travel Insurance
Address book
TANZANIA SAFARI MEDICAL KIT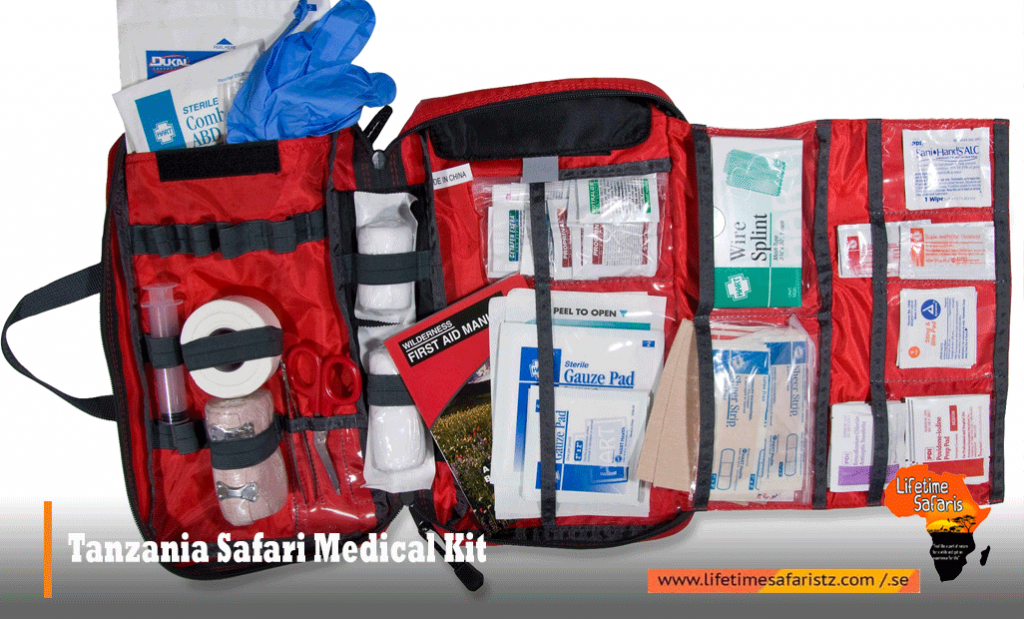 Prescription Medicines: Carry your prescription medicines along with you on your safari.
Malaria Medication: In case you're traveling to a malarial area, it is essential that you take anti-malaria prophylactics.
Prescription Antibiotics: We also recommend taking antibiotics for infections (if you have any) as they can be incredibly painful.
Anti-Diarrheal Medication: Traveller's diarrhoea is also a common affliction in Africa, and loperamide comes in handy for this.
Oral Rehydration Salts: You can also take oral rehydration salts which helps you replace fluids that are lost as a result of diarrhoea.
Antihistamines: For avoiding minimize allergic reactions, carry antihistamines such as EpiPen.
Antibacterial Medicine: To avoid getting infections from cuts and sores carry antibacterial cream, powder, or ointment along with hand-gels which are handy.
Insect Repellent: There are numerous diseases that are transmitted by mosquitoes therefore carry DEET, a mosquito repellent to stay safe in Tanzania.
Sun Block & Aloe Gel: Tanzania is a hot country and to avoid sunburn we suggest you carry sun-blocks and aloe Vera gels.
Basic First Aid Items: Taking a basic first-aid kit is mandatory in Tanzania. It should include bandages, Band-Aids, gauze, scissors, safety pins, adhesive tape, Q-tips, and tweezers (for removing painful splinters).
WHAT YOU DON'T NEED ON TANZANIA SAFARI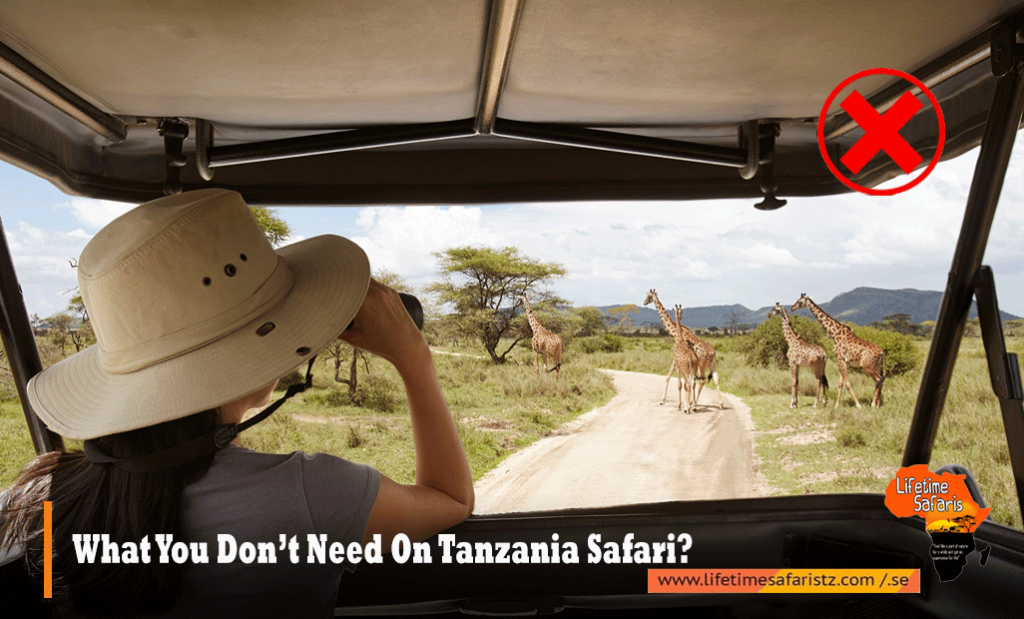 Before Traveling To Tanzania What To Pack and what to not, is the major concern as the matter of weight. Here is the list below:
There is no need to take Shampoo and conditioner as you will these in the camp and also in lodges.
Toys and Comic books for kids: As the safaris are very interesting, taking toys and comic books or any interesting games is a waste. Unnecessarily, it can increase weight and size.
Do not take more than 2 pairs of shorts and two pairs of zip-off pants. As the laundry services are available, there is no need to bring more clothing.
Do not bring more than 4 pairs of underwear for a long safari like 7 to 8 days, as the laundry is available.
No need to bring jewellery as it can raise the risk of theft and also increases the weight.
Do not bring heavy paijamas. In the night, you will get the warmest bedding and hot water bottles.
ARE YOU READY FOR A SAFARI? CHECK OUT THESE REMARKABLE TOURS FOR YOU!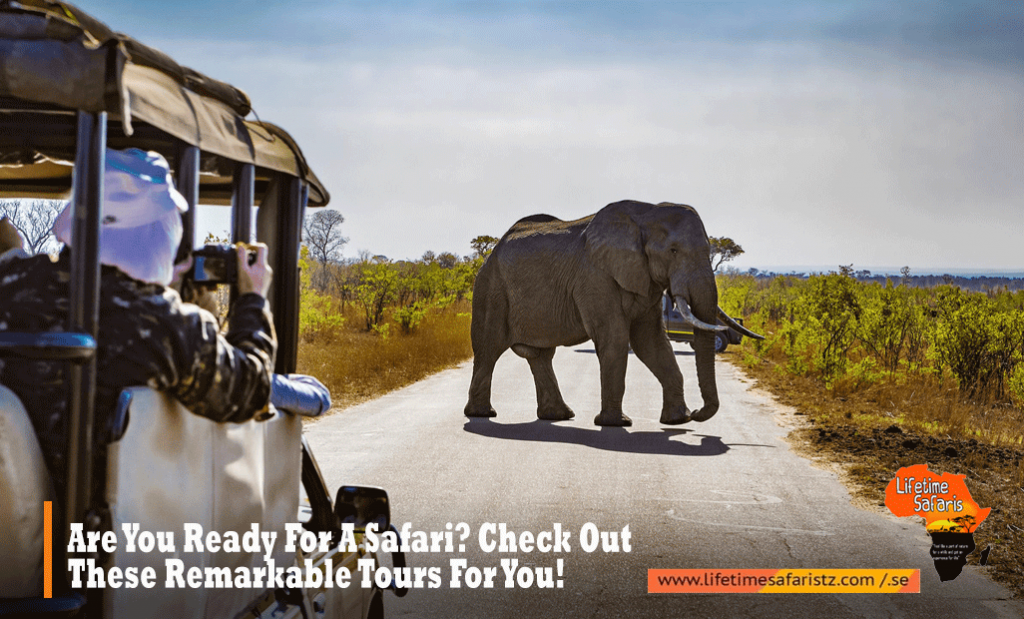 There are some interesting tours categorized under different Tanzania Safari Packages you need to be preparing for the Safari In Tanzania.
READY TO START PLANNING YOUR JOURNEY WITH LIFETIME SAFARIS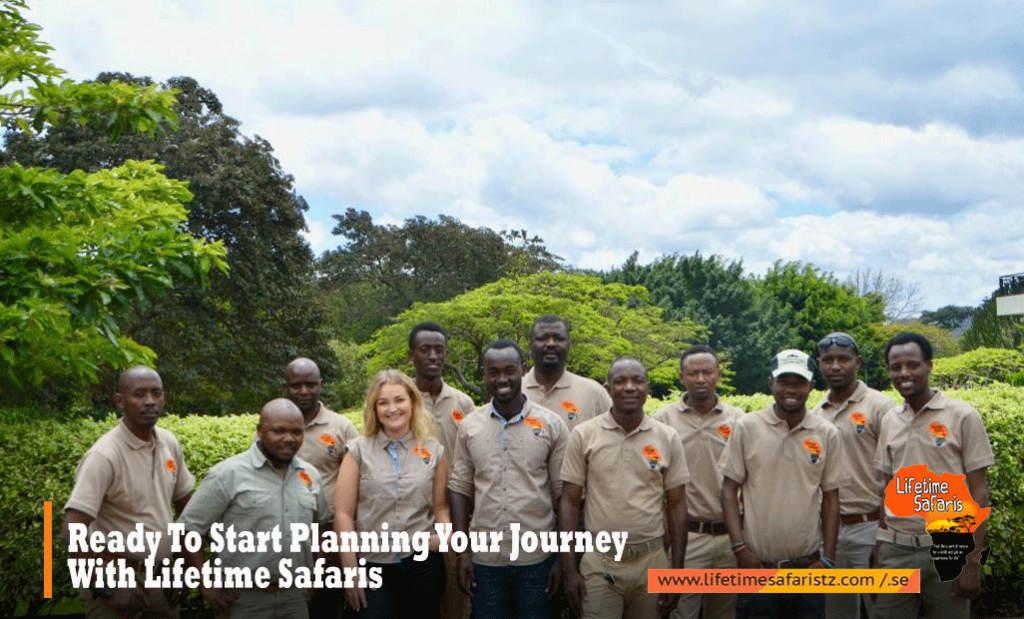 As an experienced and established tour operator, Lifetime Safaris with its expert team of experienced staff offers the most well designed and suitable itineraries in the package for the best Safari Tours Tanzania. Make your safari full of joys and unforgettable moments by joining with our well experienced Tanzania Safari Guide. To know more, visit @ lifetimesafaristz.com